Sam rakes
When I called to Jesus for salvation, He delivered me and cleansed me immediately. As I continued calling on Him (Romans 10:13), G-d lifted me, from an out-of-control life where I was enslaved to lust and pride to a life of peace. No. That peace didn't happen instantly. I reaped (tore out) what I had sown over many years through the power of G-d's Holy Spirit within me (Galatians 6:7, but Philippians 4:13). There are more trials in my new life in Christ than I'd ever imagined possible. However, His Holy Spirit tells me what to do to thwart those attacks. When I'm totally surrendered to obeying His directions, I have victory in Jesus. I'm dedicated to His Holy Spirit being at peace within me. He gives me peace and I give peace back to Him by constantly working with Him to keep the evil out of me and to keep my body a clean tabernacle for both of us to enjoy. (1st Corinthians 6:19 and 1st Thessalonians 5:19).
1. Favorite Book in the Bible: John
2. Favorite Scripture Verse: Psalm 103:1
3. Favorite Food (Cuisine): Peanut butter and honey on Hawaiian Sweet Bread
4. Favorite Dessert: (Don't laugh!) McDonald's "Soft Serve"
5. Favorite Snack: dark chocolate
6. Favorite Movie Genre: Non-violent, non-sexual, non-blasphemous (doesn't leave much does it?)
7. Favorite Music Genre: Gospel quartet, mass choir and soft flowing worship
8. Favorite Quote: "I will never leave thee nor forsake thee"
9. Favorite Past Time Hobbies: oil painting but no time for that now-a-days
10. Favorite Local Hawa'iian Dish: Pork Lau Lau
11. Favorite Season (time of the year): Winter when it's cool but not too much rain
12. Favorite Gospel Story: John 3:1-17 Nicodemus encounter with Jesus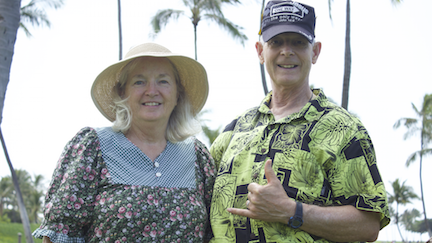 Sue Rakes
I was introduced to Jesus as a young girl, by attending Catholic parochial school. My father took me, my two older brothers, and later my younger sister to mass every Sunday. In my 20s I married a Catholic man, but left both him and the church. I avoided organized religion and churches until Sam and I came to Hawaii in 2010. We attended a Christmas Eve service held at the Marriott Ko Olina Beach Club with Pastor Qalo and continued attending Sunday services on the lawn next to Lagoon 3. Sam had reconnected with his religious upbringing, and I was attending services as a bystander until one Sunday when I was reading the song sheet and none of the hymns had the name "Jesus" in the lyrics. I realized I was looking for Jesus. A month later I was baptized in lagoon 3. Thank you Jesus for waiting for me.
1. Favorite Book in the Bible - Luke
2. Favorite Scripture Verse - 1Thessalonians 5:16-18 Rejoice always; pray without ceasing; in all things give thanks...
3. Favorite Food (Cuisine) - Asian
4. Favorite Dessert - chocolate cream pie
5. Favorite Snack - milk chocolate covered cashews
6. Favorite Movie Genre - comedy
7. Favorite Music Genre - Hawaiian (KINE 105.1)
8. Favorite Quote - "It is better to keep your mouth closed and let people think you are a fool than to open it and remove all doubt." - Mark Twain
9. Favorite Past Time Hobbies - reading, SUP, Yoga, crochet
10. Favorite Local Hawai'ian Dish - Highway Inn's Squid Luau
11. Favorite Season (time of the year) - spring
12. Favorite Gospel Story (Matthew, Mark, Luke & John) Luke 17:11-19 (10 lepers cleansed, 1 returns to give thanks)